James Hyman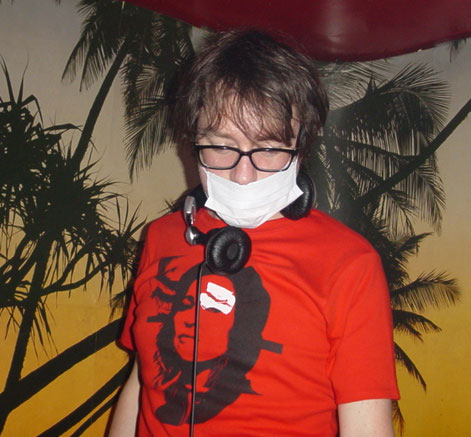 Just for the record, is 'James Hyman' your real name?
Sure is, why shouldn't it be?!! Don't confuse me with other James Hyman's out there - eg. the UK art dealer, the US therapist offering 'Deep Emotional Release', the nephew of Charles Robert Jenkins, a US army sergeant who lived in North Korea undiscovered for nearly 40 years...
What are you up to these days?
Two weekly XFM 'Rinse' radio shows & various film / tv / ad work. See www.jameshyman.com for more info.
What music are you currently grooving to?
So much good stuff out there, everything from Super Discount
2
album,
Dead Man's Shoes
soundtrack, Mylo, Ewan Pearson's production on Closer Musik's "One, Two, Three", mind-blowing new Nas single "Bridging The Gap", Beans "You're Dead, Let's Disco" (off his new
Shock City Maverick
album). Keep checking my playlists on www.xfm.co.uk/rinse.
Which album, if push comes to shove, is your all-time favourite?
Unfair to single out one but Beatles or DJ Shadow would be strong contenders.
When was the last time you actually bought a record that was shite? Where did you buy it?
Can't remember. I think those days have gone as I tend to listen to stuff before buying. I certainly get sent a lot of shite but that's the fun, sifting thru & pulling out the gems.
Which artiste, other than yourself, have you ever wanted to be?
I wouldn't want to be anyone else but aspire to many.
What are the pros & cons being James Hyman?
Pros: Doing what I want to do. Dashes of OCD & ADD!!
Cons: Perfectionism, dashes of OCD & ADD!!!
Can you recall the most embarrassing & bizarre thing that has ever happened to you?
Embarassing: Damn, I honestly can't recall any at the moment.
Bizarre: Most of my life!!!
The First of James Hyman:
First album you ever bought = Probably Queen's Night At The Opera.
First movie you watched that gave you severe wood = By wood, I'm presuming you mean "a hard on"? If so, a John Holmes movie where he played "Ralph" the gardener!
First book or mag you read that was scary = Stephen King's The Shining & some Penguin pocket book of stories with tales about Borley Rectory & Jeff the Otter; terrifying!!!
First concert you went to that changed your life = DMC World Mixing Championships.
First mash-up you heard that rocked your world = The one I produced with Gez Dewar for MTV's Megamixes back in '98, Fatboy Slim "Rockafeller Skank" & Eminem's "My Name Is"; the first video bootleg I reckon.

What is the one thing that attracted you to bootleg culture?
It's creativity, cheekyness & surrealism.
On the other hand, what do you think are severely lacking in bootlegs these days?
Nothing really lacking, just the ratio of good over bad is too low.
Any mash-ups you wished you've done but didn't?
Freelance Hellraiser's "A Stroke Of Genie-us" or Soulwax's "Smells Like Teen Booty". Classics!!!
So have your social life improved, since the news is out on of how "blessed" you're "down under"?
That article's so old! I've reaped the rewards of being "blessed down under" for too long!!!
Let's play word association. We mention a name & you give us your thoughts...
Osymyso = Intro-Spection
Boom Selection = When it was growing parallel to XFM's Remix show with Eddy Temple-Morris & me. It f**king ruled & it still does, though dust has settled on much of the 'Bootleg / Mash-Ups' scene.
Gondry = Visual genius. Check his Director's DVD for clear proof.
Mark Vidler = Solid leader in the mash-up arena: "Jacko Under Pressure", "David X", "Ray Of Gob" etc. Class.
Dizzee = Rudebwoy running tings & I'm happy to see him doing so well
Gwyneth Paltrow = Doesn't excite me half as much as the others on this list.
Simone Angel = Reminds me of the phenomenal MTV era where we both achieved a lot in broadcasting everything & everyone in 'dance' & 'club culture' from 1988-2000.
Jesus Christ = He suffered.
London Booted = Yes mate!

Which decade do you consider the 'golden era' of music?
40's - present day, though I would have slight bias to the 80's.
What do you remember about the following years:
1974 = Not much.
1983 = Becoming a man, Colecovision, The Man Who Fell To Earth, Harold Lloyd.
1988 = Acid House era - some of the most exciting times of my life ever - joining MTV, producing shows for them still in my teens!!!
1997 = Like '88 - very exciting, bit more chaotic & emotional.
2001 = Arthur C Clarke & a new dawn.
What's the most ridiculous rumour you've heard being said about you?
Several but gossip-mongering is not where I want to be.
Describe the average day in the life of James Hyman.
Get up, get dressed, listen to music, e-mail, meetings, eat, hang out in Record & Tape Exchange, meetings, Yo! Sushi, DJ or maybe a swim.
You've been a producer, video director, DJ. So what else is there left that you wanna (but haven't) do in the music industry?
Plenty, let me achieve these things & then I'll tell you about them.
What do you think the future for bootlegs / mash-ups / remixes would be like, given that being a home musician is so easy these days?
I think the future is a Darwinist 'survival of the fittest'. Anyone can do them now so the ante is upped. New unique selling points are needed eg. visuals, more elements, cleverer production. Mash-ups are an art form, certainly not a new one, look back & read up:
1963
: A dude called Nam June Paik
1984
: Video directors Godley & Creme making a mash-up video remix for Frankie Goes To Hollywood's "Two Tribes".
1985
: Paul Hardcastle's "19", a mash-up that got to No.1 & who Simon Fuller (Spice Girls) named his '19' company after!! Steinki's "The Motorcade Sped On" - a JFK assassination cut-up.
1987
: M.A.R.R.S. - original bad boys & again No.1 for a serious mash-up!!!
Not forgetting Emergency Broadcast Network, Lucky People Center - google them & learn your history!!!
Download the classic James Hyman boot:Fat Boy Shady
(Fatboy Slim vs Eminem) [OFFLINE]
You can visit James Hyman website
here
.